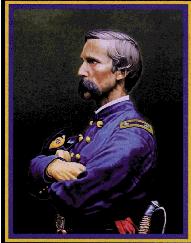 ---
---
---
Joshua Chamberlain
---
---
---
---
---
---
Links to Related Documents on the GDG Site
Articles

"Through Blood And Fire At Gettysburg" by Joshua L. Chamberlain. (Reprinted from Gettysburg Magazine # 6)

"The Saviors of Little Round Top" by Col. Alexander W. Cameron. (Reprinted from Gettysburg Magazine # 8)

Stand Firm, Ye Boys From Maine - Tom Desjardin - Chapter 6.

Who Saved Little Round Top? - Jim Morgan - A Response To the Melcher Challenge

Fanny & Joshua The Enigmatic Lives of Fanny and Joshua Chamberlain - Excerpt - Diane Smith
---
Primary Documents

Three Love letters from Joshua Chamberlain to Fanny Chamberlain - from the collection of Don Troiani

Dedication of the Twentieth Maine Monuments at Gettysburg - October 3, 1889

JLC "Original Report" and covering letter of November 4, 1863
---
Discussions by GDG Members

Chamberlain - Wound, Hero Worship, 'Nuff Said, etc

JLC Luvs Fannie - ??

Oates - Before and After
Other Links

Maine State Archives