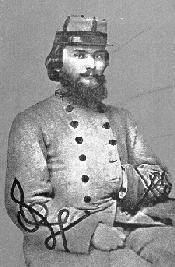 ---
---
---
Col. William C. Oates
of the
15th Alabama

---
---
---
---
Links to Related Documents on the GDG Site

Stand Firm, Ye Boys From Maine - Tom Desjardin - Chapter 6.


"Gettysburg--The Battle on the Right." By Colonel Wm. C. Oates, of Alabama, SHSP, Vol. 6, pp.172-182

Message left on "Oates' Rock"
---
General Discussion by GDG Members
Greetings:
As well as being a "gallant man", Oates was also a fugitive from the law, escaping to Florida, having fractured a man's skull in a fight in Alabama in 1850. He remained in Florida for a number of years. He became a housepainter's assistant and a crewman on a schooner. In Louisiana, he had another warrant issued for him due to choking and hitting (eight or nine times) his employer in the face with his fists. Moving on to Marshall, Texas Oates became a gambler (as well as a house painter). In a fight in Texas over insulting remarks, Oates nearly gouged out the eyes of his opponent and got himself another warrant. This time he moved on to Waco. While in Waco he became a shingle cutter and later a witness to a murder. Not wanting to be questioned by the law, Oates made ready to slip out of Waco but got involved in another altercation first. Deciding not to meet his opponent in a gunfight, Oates slipped out of Dodge..er..Waco.
Moving to Bastrop, he won a bunch of money from his fellow workers and decided to move again. Landing in Port Lavaca he fell in love but moved on again to Henderson, Texas (right up the road BTW). While in Henderson, he met his brother and they went back to Alabama. En route, he got involved in another card game resulting in a fight were he tried to gouge the eyes out of his opponent (again).
In Alabama, he still had the original warrant open for his arrest so he couldn't go back to his home county. He moved nearby and became a school teacher. Later he read law in Eufaula (really going down hill here :) Hi Eric) and passed the bar soon afterward. Now a lawyer, he also became a newspaperman man. He joined the Confederate Army and went to Little Round Top (we're picking up the pace now). At Chickamauga, he was accused of having his regiment fire a volley into the 19th Alabama (by mistake of course and I'm not going to call it friendly fire cause I just HATE that term). He denied it but it stuck with him. He got caught up in a political injustice whereas he lost command of the 15th Alabama and found that his appointment to Colonel had never been confirmed. After the war, he went back to Alabama, practiced law and was elected to Congress (now he's really really going down hill). He was elected as Governor of Alabama, unsuccessfully ran for the U.S. Senate and received a political appointment as Brig. General by President William (go getum some coffee at Antiteum) McKinley (Hi Ben). Brian, I may be wrong but to my knowledge, he spent the Spanish American War at Camp Meade, Pennsylvania commanding training brigades.
Anyway, thought the group would like to hear a little more on Oates. Certainly an interesting character!
Bill
---
From: DZouave5@aol.com

....well I will choose to focus on the gallantry rather than the peccadillos -- many a rake became a hero when confronted by the stern necessities of War -- Napoleon's Army was full of them -- but their gallantry was nonetheless valid.

Brian Pohanka
---
From: acameron@tcac.com (Alexander Cameron)

Hi Brian,

Interesting approach. I like to "focus" on the whole issue, I think it is important to do so. I'm not sure I would characterize almost killing several people as "peccadillos" but regardless it seems to me that the more you know about these characters, the better you can interpret what they have written. That's what this string was about BTW. We were talking about what Oates wrote. Seems to me the more you know about the man the better off you are. I didn't need to talk about the gallantry, you already did that. I just thought it would be nice to add a little balance. I think if you are going to mention his gallantry and his Spanish American War service in the same sentence, it would be alright if I mentioned that the service was sitting in a small camp in Pennsylvania. I think that makes a difference. I can't imagine that when it comes to information, that more is not better.

Having said that, I question someone who writes that he gave an order to retreat but "did not undertake to retire in order". I also wonder when he wrote that the retreat was on a signal and the men were advised ahead of time to "run in the direction from whence we came". It is also interesting that he does not mention the charge of the 20th Maine at all in this paragraph (I'm using the S.H.S.P. version but I have the book version also). What he does mention is that "long blue lines of Federal infantry were coming down on my right..." and "Federal reinforcements had completely enveloped my right". I think there is a good chance that when the 20th Maine charged led by Chamberlain or Melcher or whoever, the command to retreat was given and they took off. Retiring in "good order" was important in Civil War tactics for a number of reasons. It did not create panic in the contiguous units and it save soldiers' lives. Having not attempted that suggests to me that the retreat was spontaneous and not premeditated. Now all of that may be absolutely wrong but at least I have presented a case (same case as in my original post to Terry). You've just made a declaration that Oates was a "gallant man who served both the CSA and later the US in the Spanish American War. He was also quite honest in his telling of events."

Bill
---
From: DZouave5@aol.com

Bill
Your honest view of Oates, warts and all, is certainly part of the story, and I tend to agree that in his prewar predeliction for embroglios of various kinds is a part of his character, that is important to an understanding of the fight for LRT. But I also appreciate his bravery as a soldier, and his postwar efforts to sort out the confusion and misconceptions of that battle of July 2. It is a shame that the monument he proposed was never erected.

Brian
---
From: ATWF68A@prodigy.com (MS EILEEN M MURPHY)

FOR BILL CAMERON

Many thanks for adding some balance to the subject of Oates. Too often the media, Hollywood and well meaning authors tend to gloss over the shady pasts of some of our CW 'heroes'. We need a touch of reality every now and then to put things in their proper perspective. As Eric stated, "Dan Sickles was no choirboy" either. All wars and battles, even our beloved Gettysburg, had its share of the "Dirty Dozen" .

Eileen Murphy
---
From: Scott_Hartwig@nps.gov (Scott Hartwig)

This may be a better topic for Sallie Jesse or Oprah but a lot of the less pleasant side of William Oates may very likely be rooted in his difficult childhood. Evidence suggests (but does not confirm) that Oates and his brother John were raised by an abusive, alcoholic father and while I am not raising the Menendez defense here, or trying to justify his actions, I think our modern consciousness of these issues may help us to better understand the man and his highly interesting, if not tumultuous life.

Perhaps the best study of Oates will find its way to print in the reasonably near future when group member Glenn LaFantasie completes his study. One would be hard-pressed to find someone with greater knowledge of the Oates family (past and present) so here's hoping Glenn finds time to press on with his work (sorry Glenn).

As to the moment of decision at the spur and whether he ordered a

retreat, I offer a few kernels...
IF he did, by all accounts only a handful of his men would have been able to hear or understand it.
He was exhausted at that moment. Five minutes later, he collapsed.
He had just seen his brother (with whom he was extremely close) and their best friend brutally killed (he thought) within ten paces of him.
His command was stretched in a huge arc and at some points broken by terrain or detachments.
He perceived, thanks to errant rumors, that the 20th's Company B was actually two regiments of infantry.
He perceived, thanks to a misjudgement by his sergeant major, that he was completely cut off from his brigade.
He and his men had just marched nearly 30 miles, rested ten minutes, raced through an artillery barrage, climbed up and over a huge hill under sharpshooter fire, and then fought uphill for more than an hour.
In light of circumstances such as these, I doubt anyone heard a coherent command and if they had it would have been impossible to follow in any sort of orderly fashion. Finding fault for the "wild cattle" retreat seems very very hard. I reckon I would have put my heels to running myself.

your obdt. servant, &c &c,

Tom Desjardin
GNMP
---
From: acameron@tcac.com (Alexander Cameron)

Hi Tom,

Thanks much for the insight on Oates. Also, I apologize for failing to mention yesterday that the source for most of what I wrote about Oates was Glenn's work. He shouldn't be blamed for my hurried and sloppy rendition but he is the source of the information.

As to finding fault with the "wild cattle" retreat, my point in all of this has not changed one bit. The point is that I think Oates has put a positive "spin" on the retreat when he wrote about it. I really believe he did. Doesn't mean that it is the end of the world but I've presented an argument that the Oates' version was protective of Oates. I did it because Terry was upset because folks are quoting only part of the sentence and not mentioning the signal to retreat or the fact that they ran through the "dismounted calvary". Got to remember the original point when we go on and on with one of these subjects. I also wrote that almost every time a battery commander lost his guns or a regimental commander had his regiment run, they explained it away in their report or post-war writings. Now I know that it is an oversimplification but it is basically true.

Here is my interpretation of what Oates is trying to get us to believe. Captains Hill and Park came to him and suggested that he order a retreat. He replied "return to your companies; we will sell out as dearly as possible". Then Oates tells us that he did order a retreat but "did not undertake to retire in order". He then gives us the impression that he passed the word ("advised") that at the signal, the men should run back in the direction they came from. In my words, he order the "wild cattle" retreat and executed it on a signal. I don't believe it. My point on "retiring in order" is that if he was going to order a retreat and execute it on order, I think he would have attempted to retire in order. I know that he was tired, that he had made incorrect intelligence assumptions based in some cases on bad information, and that he fainted shortly thereafter. We are all reading from the same accounts. I just don't believe that he ordered a "every man for himself" retreat and gave a signal to execute it. Like you, I'm not sure that they could have heard a signal. I think the "wild cattle" retreat was spontaneous. I think that Terry was upset because folks are quoting the "ran like wild cattle" without mentioned that it was premeditated and executed on signal. While I agree that we ought to be quoting the whole sentence, I don't believe that it happened quite the way Oates is telling us.

I believe that he was a gallant officer, I also believe that he had a difficult childhood but I still believe that he put a positive "spin" on his story. Again, not the end of the world.

Having said all of that, I just can't wait until our discussion of your book. I've heard so much positive stuff about it. Does Morningside have it? I tried to call the other number the other day and couldn't get through. I'm going to order it Monday.

Bill
---
From: John Kelly

Excellent posting, Tom!! One other thing which should be noted and that was that Oates was also growing up and living in a very tough era. Frontier Texas, where he caused a certain amount of damage durinbg his residence, was not a wild country in the 1830-1850 time span and beyond. Fighting usually ended with one or both of the antagonists unable to press charges because of a serious case of death. Lesser spats were settled by "rough-and-tumble" which could be fatal, but usually ended with eye-gouging, biting, and other unpleasantries. So, I find his escapades not so terrible, considering the environment and mores of the time.

Regards,
Jack Kelly
---
From: "John A. Leo"

I encountered Oates book about 5 years ago at the Library of Congress. I enjoyed it but I never bought my own copy. The recent references to the misidentification of the one or two dozen 2nd USSS raised an interesting issue in my mind. And now of course I'm stuck without the book.

Why did Oates explicitly identify his opponents to his right flank as cavalrymen? Obviously no horses were to be seen. Is it possible or likely that Oates could tell that the rifles targeting him were rapid fire breachloaders (52 cal sharps for most of the sharpshooters, telescopic target rifles for one company in each of the two regiments) that kept up a fast rate of fire that could be misinterpreted as triple the number of men flanking him? I'm sure (I think) Oates knew that Federal cavalry had breechloaders.

Also the uniforms of the Sharpshooters were quite different from the rest of the infantry that Oates was encountering.Captain Stevens, the historian of the USSS, describes the uniforms as" a dark green coat, light blue trowsers (later green ones), and leather leggins". Did this uniform sugggest to Oates that the Sharpshooters were obviously not dressed as Federal infantry, and therefore must necessarily be calvary?

What other reasons might explain why this experienced leader have misinterpreted the nature and numbers of the flanking force on his right?

AND more generally,

A common thread through many of the postings for the last few days especially calls into question the accuracy of memories of the recollectors, even, for example, to the point of questioning the sanity of those involved and responsible for the "Countermarch". I just wonder if simple, possibly even trivial reasons to us with our more complete knowledge of what was happening at the time can explain why seeminingly unexplainable behaviour made perfect sense at the time.

Does any of this make sense, and if so, is this example a plauable explanation or just an excuse?

Do we assume that the actors we are examining minutely had information (or biases) that we don't have now (or that we now know to be incorrect - say for example Longstreet's flanking sweep to the right where WE know few Federal troops were located)? Or do we explain away actions that we don't understand as the natural behaviour of idiots blindly following inept West Point tactics?

Thanks for giving this some thought. Replies are very welcome. I really think that some of these "unspoken assumptions" cause some of us to talk past one another on some issues. WHAT DO YOU THINK?
---
From: acameron@tcac.com (Alexander Cameron)

Hi john,

Darn good question! I think that Oates' "cavalrymen" were mostly from Company B, 20th Maine but there were some sharpshooters with them. My memory tells me about 12 but I haven't looked it up. As to why he thought they were cavalrymen, I imagine Tom has a good answer but it's late so I'll engage in a little guessing. You already made a case for the weapons and different uniforms. I would add that Oates encountered the sharpshooters on the way in near BRT. He may have know that there was cavalry screening between Emmitsburg Road and the Round Tops during the morning. Because he encountered them in that area he may have mistaked them for screening cavalry at that time. When he saw them again, he continued to assume that they were cavalry. Usually I try to have something to support my post but this is just a wild %#@* guess.

Bill
---
From: Tom Desjardin

Saving the details for the discussion, Oates once claimed he questioned the cavalrymen and that's how he discovered what branch they were. The three men he describes (their circumstances, that is) seem to indicate that they were the three captives lost from Company B. It would hardly be the first time captives lied.

Tom Desjardin GNMP

From: tjackson@gis.is.net

Dear Mr. Leo,

I do not believe that Col. Oates elaborated on the "cavalrymen" that were taken prisoner during the retreat of the 15th AL Reg. from Little Round Top. He does not do so in his 1878 article 'Gettysburg- The Battle on the Right' (Southern Historical Society Papers) or in his 1905 book. I have thought for some time now , like you, that he must have been describing some 2nd US Sharpshooters. They were there in the path of the retreat. Tom Desjardin's book list three 20th Maine soldiers that were captured but I don't think Oates was making reference to them.

Terry Jackson
---
From: "Glenn W. LaFantasie" Hello everyone:

Thanks for the plug, Tom. I do hope to finish my work on Oates at Little Round Top in the near future, perhaps by the end of the year, and then I am planning to do a full-blown biography of Oates. Fact is, though, that Oates is a pretty well-known fellow now, which was not the case just a few years ago. Many things have helped him to gain visibility and popularity, including the movie (though he's not mentioned), Ken Burns's documentary, all the recent hype about Chamberlain, and--Tom--your good research and writing as well as your presence at GNMP in recent months. It's getting much harder to say anything original about Oates.

William Oates was not only a colorful character with a shady--and very violent--past; he was also a very complicated fellow who struggled, in his later years when he wrote several different accounts of Gettysburg, with the notion of truth and with his sometimes conflicting memories of his own experiences. He was forthright and honest to a fault. But he was also proud and boastful. When he wrote that his men ran like a herd of wild cattle, I believe he meant precisely what he said. I don't think there's much room to interpret his words out of context. But he also wanted to let the world know that he had given an order to withdraw just moments before the 20th Maine swept down on his men. Like Tom and Brian, what I find so appealing about Oates is his honesty, and his ability to describe combat in credible terms. It does not do a disservice to the 15th Alabama to say that they ran like a herd of wild cattle. Oates knew his men were brave; but he also knew they had been driven from the slope of that hill by a great, overwhelming force. HIs reference to captured cavalrymen, which is clearly a mistake, has never really bothered me very much. Oates said often that it was impossible to remember the details of any battle perfectly, and in that admission he was articulating an understanding of what we today understand as "the fog of war."

What I find most intriguing about Oates is that for all his accomplishments, mentioned by several posters, he could never leave Gettysburg behind. Oates's significance, in fact, probably has less to do with whether or not he was hero on that battlefield (he, most certainly, would admit he was not), or even whether or not he was able to turn the Union left flank on the second of July 1863, than it does with a point that Amy Kinsel--in a posting that Dennis forwarded to GDG from the H-CivWar listserv-- raises about the symbolic importance of the Gettysburg battlefield. Oates wanted to erect a monument to the 15th Alabama on the slopes of Little Round Top because he wanted his men--and his dead brother John--to be remembered for what they had done there. Oates's struggle over the confused and conflicting details of the battle--orders to retreat and the charge of the 20th Maine; captured cavalrymen and regiments closing up on his rear, ledges conquered and boulders mounted--all of these details were important if posterity was to understand the importance of what had taken place on Little Round Top. More to the point, Oates wrestled with trying to figure out what Gettysburg and the Civil War meant for him personally. He never much liked the answers he reached repeatedly--that it was a lost opportunity, that he and his men might have done more to take that hill, that one of his greatest losses took place there (the death of his beloved brother), that history, as he points out so poignantly, sometimes turns on small events. Since that bloody afternoon, Oates could not stop turning Gettysburg over and over again in his mind, almost as if he thought that the outcome might be different if he could just grasp--once and for all--what it all really meant. He never could, just as today we all try desperately--this group more than most people--to understand what Gettysburg meant to those who fought it and what it really means to us today.

Cheers,

Glenn.
---
> Glenn,

Thanks for responding to my post regarding Oates' efforts to monument Little Round Top and the Confederate graves in federal prison cemeteries. Oates' photograph does appear on the trail marker as you say but there is scant or no mention I believe regarding his post war career. Most of that marker's text is devoted to Col. Chamberlain. He deserves it but all history is worth telling; I just wish there could be more balance in it. It's unfortunate for all of us that Gettysburg was not monumented like the Chickamauga, Georgia National Battlefield Park.

Have you visited Oates grave in Montgomery? I visited the cemetery last year but it became dark before I could locate his plot.

Respectfully yours,

Terry Jackson
---
From: "Glenn W. LaFantasie"

Terry and others:

Yes, I have visited Oates's grave in Montgomery. It is located in the Oakwood Cemetery on the edge of the city, where Hank Williams Sr. is also buried. Oates's grave is marked by a life-sized statue of him as he looked in the 1890s (i.e., during his term as govermor of Alabama), replete with a pinned sleeve where his right arm should be. Oates was a huge man, 6'2" tall, and his statue correctly portrays him as rather barrel-chested. Other members of the Oates family are buried in the same plot, including his very comely wife, Sarah Toney Oates, who was affectionately called "T" by Oates and her family, including her granddaughter, who is in her mid-seventies and lives in Washington, D.C. Not surprisingly, Oates designed his grave marker himself. He wrote a long inscription for it, which I don't have right at hand, but it delineates all of his achievements--Confederate "colonel" (actually never confirmed by the Confederate Congress), seven-term U.S. Congressman, one-term governor of Alabama, Brig. General, U.S. Army.

BTW, one of Oates's ceremonial swords from his days as Brig. Gen., and inscribed as such, was recently stolen from a family member in Montgomery. If any of you are collectors and come across this item, please be aware that it was purloined; I'd appreciate hearing from anyone who has news of the sword or any Civil War books inscribed by Oates (stolen during the sametheft) that suddenly appear on the market.

Thanks.

Glenn
---
From: pauline s gidjunis

I have used a lot of restraint staying out of the Chamberlain discussion; as my bias towards him (favorable to put it mildly)is well know in some circles (yes Steve, I think you are right, there seems to be quite a few compuserve forum people here)!

Either talking about Chamberlain or Oates, or whomever - these were just men; not saints, not demons, just ordinary men who were put in extraordinary situations, and rose to the occasion!

Why is it that we want them to be totally perfect, and if we find a flaw, we then insist that none of what they did was heroic?? I think in the majority of cases, we don't have a black or white issue - it is an issue with many shades of gray(or blue, whatever the case might be )!

Yes we need to analyze and yes we probably want to know everthing exactly as it happened. But I think it's more important to know that these men did not shirk their duty and did the best they could, under the circumstances. To analyze what they did is one thing, but to fault them because it doesn't agree with our thinking,is somewhat unfair. Considering we have a better concept of the "big picture" than they probably did.

Paula Gidjunis
---
From: "Glenn W. LaFantasie"

At 00:38 3/5/96 -0500, you wrote:

>Mr. Glenn W. LaFantasie,

> >Regarding William Oates effort to place a memorial marker to his slain brother >and comrades on Little Round Top, it might be interesting to note that he was >simultaneously engaged in a larger commemorative effort. He had been appointed >as the Commissioner to carry out the provisions of the Foraker Act which was >passed by the US Congress in 1906. It provided for the placement of marble >markers on the Confederate graves at federal prison sites in the North. This is >mentioned in the Southern Historical Society Papers. Vol 38, p295.

> > >Respectfully yours,

> >Terry Jackson

> > Terry:

Thanks very much for the reference. Tom Desjardin is kind to call me "the" expert on Oates, but it's clear you know a good deal about him yourself, and I've been pleased to learn a few new things about him that have come out of the recent postings.

On another matter, I may be wrong, and maybe Tom can clarify, but I thought Oates WAS mentioned on the interpretive marker along the trail from Sykes Avenue to the 20th Maine monument. I seem to recall that his picture is used on the marker. I confess that I haven't bothered to stop and read the thing in years (I tend to head straight for Oates's Rock), so maybe my memory is fuzzy. Of course, this wouldn't take the place of a monument to the 15th Alabama itself, but it would at least place him on the modern hill. If Oates is NOT mentioned, then I think the Park Service should make sure that Tom is employed full-time and stationed on LRT year round so everyone who visits the hill can be sure to hear a reliable version of the Oates story in situ.

Glenn
---
tjackson@gis.is.net says:

Glenn and others in GDG,

Inspired by your recent description W.C. Oates tomb. I successfully located it last weekend in the Oakwood Cemetery in Montgomery, AL. It was indeed rather impressive and it was framed by a rather imposing view of the Confederate section on the adjacent hillside. I copied the inscriptions on the tomb as well as that from a recently placed historical marker that may not have been there when you last visited. The inscriptions, caps and all, were:

The tomb s front inscription reads:

WILLIAM C. OATES

BORN NOVEMBER 30, 1833,
DIED SEPTEMBER 9, 1910

BORN IN POVERTY,
REARED IN ADVERSITY,
WITHOUT EDUCATIONAL ADVANTAGES,
YET BY HONEST INDIVIDUAL
EFFORT HE OBTAINED
A COMPETENCY AND THE
CONFIDENCE OF HIS FELLOW MEN,
WHILE FAIRLY LIBERAL TO
RELATIVES AND TO THE WORTHY POOR.
A DEVOTED CONFEDERATE SOLDIER,
HE GAVE HIS RIGHT ARM FOR THE CAUSE.
HE ACCEPTED THE RESULT OF
THE WAR WITHOUT A MURMUR;
AND IN 1898-9, HE WAS
A BRIGADIER GENERAL OF
UNITED STATES VOLUNTEERS
IN THE WAR WITH SPAIN
OATES

An inscription on the back of the tomb reads:

"A SOLDIER IN TWO WARS,
CAPTAIN, COLONEL,
AND GENERAL:
LEGISLATOR, MEMBER OF
CONGRESS, AND GOVERNOR."
OATES

A historical marker recently erected within the Oates burial plot contains the following information:


GOVERNOR WILLIAM CALVIN OATES
BORN IN PIKE COUNTY INTO A POOR ALABAMA FAMILY
IN 1835, OATES PRACTICED LAW IN ABBEVILLE WHEN
THE WAR BEGAN. ELECTED CAPTAIN OF THE "HENRY
PIONEERS," CO. G. 15TH ALABAMA INFANTRY. HE SAW
SERVICE IN JACKSON S CORPS AND WAS APPOINTED
COLONEL OF THE 15TH REGIMENT IN 1863. GIVEN
COMMAND OF THE 48TH ALABAMA INFANTRY IN JULY 1864,
OATES RIGHT ARM WAS SHATTERED BY A MINIE BALL AT
PETERSBURG IN AUGUST 1864. HE LATER SERVED ALABAMA
AS A LEGISLATOR, CONGRESSMAN, AND GOVERNOR. OATES
SERVED STATESIDE AS A BRIGADIER GENERAL, USV IN
THE SPANISH-AMERICAN WAR.
(CONTINUED ON OTHER SIDE)

COLONEL W.C. OATES
CSA AT GETTYSBURG
(CONTINUED FROM OTHER SIDE)

JULY 2, 1863: GENERAL LAW S ALABAMA BRIGADE
OF LONGSTREET S CORPS ARRIVED ON THE FIELD, HAVING
MARCHED 25 MILES IN 11 HOURS. THE 15TH ALABAMA
REGIMENT COMMANDED BY OATES BECAME THE EXTREME
RIGHT FLANK OF LEE S ARMY. IT MADE FIVE CHARGES
UP LITTLE ROUND TOP AGAINST THE WITHERING FIRE OF
THE ENEMY AND ENGAGED IN FIERCE HAND-TO-HAND
COMBAT WITH COL. JOSHUA CHAMBERLAIN S 20TH
MAINE REGIMENT AND OTHER FEDERAL TROOPS
BEFORE BEING DRIVEN OFF THE HILL BY A FINAL DESPE