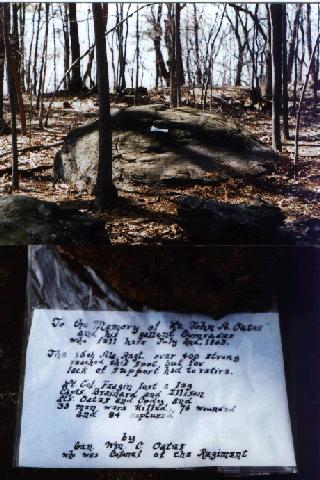 Photo Courtesy of Esteemed Member Eric Swanger
Col. William C. Oates identified the rock in the background of the top picture as the one on which his brother was killed. He wished to erect a monument on that site, but was denied permission to do so. The message on the rock - close up in the bottom picture - is the one he wished to place on the monument. It reads:
To the memory of Lt. John A. Oates
and his gallant comrades
who fell here July 2nd, 1863.
The 15th Ala. Regt., over 400 strong,
reached this spot, but for
lack of support had to retreat.
Lt. Col. Feagin lost a leg
Capts. Brainard and Ellison
Lts. Oates and Cody and
33 men were killed, 76 wounded
and 84 captured
by
Ge. Wm. C. Oates who was Colonel of the Regiment