DON TROIANI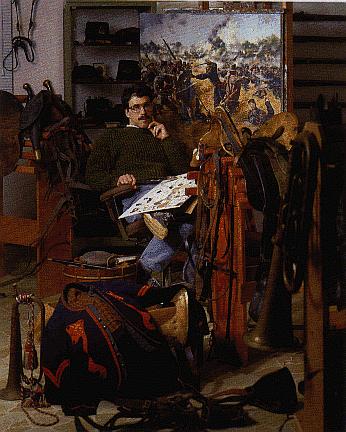 DON TROIANI is a soul lost in time; a twentieth century artist to whom the life of the common soldier of the Civil War is as familiar and vivid as the surroundings of his Connecticut studio. While there are many other painters who have turned their attention to historical art, none have done so with the enthusiasm, insight and dedication of this accomplished recorder of drama and detail.

In the spirit of presenting historical truth, through art, Don Troiani helped establish the Society of American Historical Artists (SAHA) in 1980 and personally set uncompromising standards of excellence and authenticity in his field that few others can equal. Models are chosen with the greatest care to achieve the proper look of the men in mid-Victorian America. The garb and wear of each figure is painstakingly researched. Appropriate backgrounds are found and studied, sometimes sending the artist hundreds of miles from home to examine battlefields and structures first hand. Because of the great amount of research that goes into one of his works, it is often years between a painting's conception and the actual moment a brush is put to canvas.

"If an historical painting is not accurate, then it is worthless as both art and an investment," Troiani declares. "If you are going to become involved in this field, there is no excuse for being inaccurate."

Indeed, Troiani's lifelong focus on America's military heritage enables him to present that subject with a credibility that surpasses his contemporaries. For a quarter of a century he has methodically built a superb museum quality reference collection of Civil War uniforms, equipment, and weapons which he calls on to add the special dimension of realism he is so well known for. An expert researcher with a personal Civil War library of over 2,000 volumes, he is assisted in his search for the truth by a select network of advanced collectors, curators and specialists whom he corresponds with regularly and who open their collections to him.

Because of his unparalleled familiarity with Civil War artifacts, Troiani is regularly contacted by major museums and collectors from across the country who greatly admire his firsthand knowledge. Numerous items from his collection have appeared in the acclaimed Time -Life Book series on the Civil War and Salamander's "Fighting Men of the Civil War-Series. Others of his artifacts have been loaned for the exhibition at the Smithsonian Institution, Delaware Historical Society, Virginia Historical Society and the National Park Service Visitors Center in Gettysburg, PA. Many items have been illustrated in the Time-Life "Echoes Of Glory" series. His artwork has appeared on television productions on NBC, CNN, A&E network and Discovery channels.

"You can look at a picture of an artifact for days and still not know it. But examining it in your own hands reveals its texture, its substance and how it works,".explains Troiani, who is also an active Fellow of The Company of Military Historians. Many times he has had costly reproductions of rare or delicate original items hand-crafted so they can be used actively by his models.

Born in New York City in 1949, Troiani's future as a premier interpreter of history seemed pre-destined. His father, an accomplished commercial artist, encouraged his talented son and kept him supplied with paper, paint and direction. His mother, a successful antiques dealer, nurtured her son's interest in the past and showed him the importance of having a three-dimensional view of history. By the time he began perfecting his skills at the Pennsylvania Academy Of Fine Arts and New York City's Art Students League, his role as a consummate realist was already clear.

Since launching his professional career before the Bicentennial and demonstrating his gift for combining art and historical integrity, there has been a strong, increasing demand for Troiani's work by both distinguished private collectors and important institutions. His work is represented in the collections of American Heritage Magazine, Time-Life Books, Smithsonian Magazine and the Smithsonian's Museum of History and Technology. McGraw-Hill, the National Park Service, Gettysburg NHP, Ft. Necessity NHP, Ft. Scott NHP, Guilford Court House NHP, Saratoga NHP, Boston NHP, Cowpens NHP, Petersburg NHP, Morristown NHP, U.S. Army War College, U.S. Marine Corps Museum, Pejebscot Historical Society, Brunswick, ME, Command General Staff College, Ft. Leavenworth, KS, North Carolina Museum of History, Parks of Canada, the Pentagon, the U.S. Army National Guard, the Pennsylvania National Guard, The Pennsylvania Historical and Museum Commission, West Point Museum, the U.S. Cavalry Museum at Fort Riley, Kansas, the War Library an Museum of the Military Order of the Loyal Legion of the U.S. and Heritage Plantation in Sandwich, Mass. He is also represented by major galleries in Scottsdale, Arizona and New York.

A recent work was a U.S. postal card commemorating the 350th anniversary of the U.S. National Guard. Troiani is also a recipient of the Meritorious Service Award of the National Guard. For his work in Battlefield Preservation, Don Troiani has recently been elected to the National Advisory Board of the Association For The Preservation Of Civil War Sites.

'America's history is filled with action, color and excitement. It is certainly a valid subject for an artist to pursue as long as it is approached in a thoughtful and thorough way," Troiani said. "There has been too much distortion over the years. I believe the more accurate the presentation is, the clearer our image will be of our heritage. It is a far better way to honor our ancestors."

With this sense of "mission," Don Troiani will no doubt continue to capture a crucial period in our nation's past with style, emotion and unparalleled accuracy. It is truly a special way to honor our ancestors.
---

Home