Model 1853 Enfield rifle musket. .577 caliber
Carried by: Sterling E. Lucas
Co. H (Warren Volunteers), 21 Regt. Mississippi Volunteers
---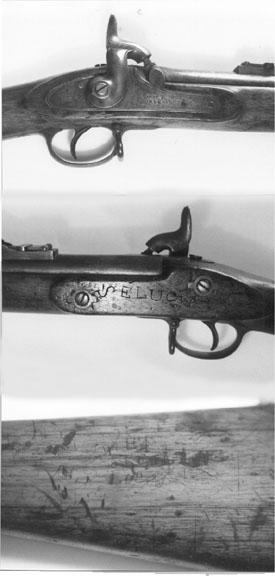 ---
Model 1853 Enfield rifle musket. .577 caliber
Carried by: Sterling E. Lucas
Co. H (Warren Volunteers), 21 Regt. Mississippi Volunteers
Pvt. Lucas was present for the following engagements:
Seven Pines, Savage Station, Malvern Hill, Maryland Heights, Sharpsburg,
Md, Bombardment of Fredericksburg, Battle of Fredericksburg, Gettysburg,
Chester Gap, and Chickamauga.
It appears that this was enough for Pvt. Lucas, for on the Sept-Oct 1863
muster roll, he is listed as Missing since Oct. 1863. Later in October,
it was reported that Pvt. Lucas had Deserted to the enemy in front of
Chattanooga. Further, he took the oath of allegiance, and went north of
the Ohio river. He was gone, but his rifle still remains, for it now
resides proudly in the James Cameron collection.
---
Brief Note from Jim Cameron
At Gettysburg, the 21st Mississippi was part of Barksdale's Brigade, McLaws'
Division, Longstreet's Corps, Army of Northern Virginia.
On July 2nd, it attacked through the Peach Orchard, overran Bigelow's Battery at
the Trostle Farm, and captured the guns of Watson's battery, before being forced
to withdraw in the face of Union reinforcements. It is sometimes referred to as
"The only regiment to cross Plum Run."