---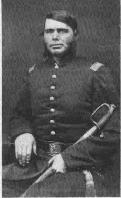 REMINISCENCES OF COL. COLVILL.
By Judge Bert Feeler
A paper prepared by Bert Feeler, to be read at the Eighth Annual Meeting of the North Shore Historical assembly, held on August 22, 1936, on the Colvill Homestead, about seven miles northeast of Grand Marais, when and where a plaque was dedicated in honor of Col. William Colvill, commander of the First Minnesota Infantry at Gettysburg.
---
William Colvill, Colonel commanding the First Minnesota Infantry regiment at the battle of Gettysburg;, was born at Forestville, Chautauqua County, New York, on April 5, 1830. His mother was of Irish, his father of Scotch descent. His father had been a pupil of Thomas Carlyle and the old country ancient home of the Colvill family was at Ochiltree, mentioned by Sir Walter Scott in The Antiquary. During his residence in Forestville, the father of Col. Colvill was engaged in the general merchandise business.

Colonel Colvill was graduated from the Fredonia Academy and taught a country school for one year. He then read Law in the office of Millard Fillmore in Buffalo, NY and was admitted to the New York Bar in the spring of 1851. He practiced law in Forestville about three years and, in 1854, migrated to Minnesota. He spent the first year, or more, in St. Paul, during which time he was, first, enrolling clerk and then secretary of the Territorial Council. He went to Red Wing in the spring of 1855 and established the Red Wing Sentinel, an independent Democratic paper, and thereafter continued to publish that paper or some other paper in Red Wing until he enlisted in the Union Army. His papers were always Democratlc in politics, but always for the Union and against secession. Those who held such views before the war were known as Union Democrats and generally supported the policies of Stephen A. Douglass. Col. Colvill practiced law more or less casually while he was publishing his papers.

Col. Colvill married Jane Elizabeth Morgan of Oneida County, New York. She was a direct descendant of Elder Brewster, one of the Pilgrim Fathers. She died November 13, 1894, and was buried at Cannon Falls.

As his services in the Civil War are to be covered in detail later on this afternoon by Col.Ronningen, I will for the present pass to his career after the War. He returned to Red Wing after the War and engaged in the practice of law and politics, and continued the publication of the Sentinel. He was elected a Representative to the State Legislature from Goodhue County in 1865. He was Attorney General of Minnesota in 1866-68. He was again elected to the Legislature in 1878. He ran as a Democrat and Goodhue County was overwhelmingly Republican. In 1887 he was appointed by President Cleveland, Register of the Duluth Land Office and moved to Duluth. In 1891 he resigned that office and opened a law office in the Old Masonic Temple on the northeast corner of Superior Street and Fourth Avenue West, limiting his practice largely to Land Office business. Later on he moved his office to a building located where the Duluth Herald building now stands. In 1895, he abandoned his professional career, his wife having died a few months before, and moved to his homestead, located where I now stand. He filed his Declaration on this homestead April 18, 1892, and his Application on April 14, 1893. Through the cooperation of Congressman Pittenger, I have obtained a photostatic copy of, his application, which is in Col. ColvilI's own handwriting, and will present it to the Cook County Historical Society.

From 1896 to 1905 Col. Colvill spent intermittently about six and a half years on this homestead and about three and a half years on his farm near Red Wing. In 1896 his name was presented to the Peoples Party Convention of Cook County for the nomination for County Attorney, but he did not receive the nomination. I have been unable to learn whether his name was presented with his knowledge or consent.

Col. Colvill died in his sleep, June 14, 1905, in the Soldier's Home in Minneapolis, where he had come from Red Wing to attend a reunion of his old regiment. He is buried beside his wife in Cannon Falls. Why he was buried at Cannon Falls I have not been able to learn.

A bronze statue of Col. Colvill was placed in the rotunda of our State Capitol in 1909. A replica of it at Cannon Falls was dedicated by President Coolidge in 1928. In 1906 this township was organized and named for him.

Why do we recite all these details of Col. Colvill's life? He led the Charge of the First Minnesota at Gettysburg! I knew the story long before I came to Minnesota. My father commanded the 27th Indiana Volunteer Infantry at Gettysburg. He lost over a third of his regiment - 115 - in killed and wounded, in less than ten minutes, in driving Confederate General Johnson across Rock Creek at the base of Culp's Hill. So, he knew what Col. Colvill's charge meant, And I knew -- because I had heard of it from my father long before I ever thought of coming to Minnesota to live.

Col. Colvill was under arrest the morning of July 2nd. He allowed his men to cross a stream, on June 29th, on a log, whereas the orders were to wade across. The stream was only about three feet deep, but Col. Colvill always looking out for the welfare of his "boys" permitted his men to cross on a log in order to avoid marching with wet feet, He was relieved from his arrest the very morning of the charge. Sickles' Third Corps of the Union army had formed in line far in advance of the position designated in his orders, and far in advance of the rest of the Union line. Gen. Longstreet attacked him and, badly defeated, Sickles' army was in retreat and disorder, and the Union army front line was about to be divided by Longstreet's charge. The First Minnesota was at that time waiting orders far in the rear of Sickles' line at the top of a hill which ran down to a dry creek, beyond which Longstreet's army was charging down the hill on the other side. Gen. Hancock, realizing the danger to the Union Army if Longstreet should cut. through the line, rode up to the First Minnesota and asked what regiment it was. Col. Colvill answered: "The First Minnesota". "Charge!" ordered Gen. Hancock. And in perfect alignment, with "arms right shoulder shift" the regiment marched down the hill, breaking into a run, crossed the dry creek, Longstreet's first line broke, his second line broke, and his two brigades were finally held by less than fifty men of the First Minnesota who were still able to stand, until Hancock could bring up reinforcements, then Longstreet retreated, and defeat had been changed to victory by the Spartan bravery of Col. Colvill and his fearless men. Col. Colvill fell severely wounded before his men reached the dry creek, never entirely recovered from his injuries, and remained a cripple the rest of his life.

How did Col. Colvill happen to be at Gettysburg? When President Lincoln made his first call for volunteers, a war meeting was held at Red Wing and volunteers were requested to sign a roster on the chairman's table. For a moment no one responded. Then there was a general rush for the table, Col. Colvill leading, and his name was written the first on the list. He was elected Captain of the company, then organized, and on April 29, 1861, it was mustered in as Company F. of the First Minnesota. It was the first regiment in the United States that enlisted for three years on the Union side.

Col. Colvill was first wounded in the fighting on the Chickahominy; on the march to Gettysburg, he had his horse shot from under him and received some slight injuries; and in the charge at Gettysburg he was severely wounded twice, most seriously in the region of the hip, and these were the wounds which crippled him for life. After the battle of Gettysburg, he was taken to a Harrisburg hospital in a cattle car, suspended by rubber supports from the roof of the car, because he was so large and his wounds so serious, that he couldn't be gotten in a day coach. In 1906 the nurse who cared for him in that hospital visited Mrs. Hussey in Grand Marais. Her relationship to Col. Colvill will appear later on

Col. Colvill participated in twenty-eight battles of the Civil War and was mustered out of the First Minnesota on May 4, 1864, at St. Paul. On February 6, 1864, before he left Washington for St. Paul, a banquet for him and his regiment was given in Washington, which was attended by Vice-president Hamlin, Secretary of War Stanton, Secretary of the Navy Usher, Senator Windom and many other high officials. Col. Colvill was still suffering from his wounds and had to be carried into the banquet hall.

After he returned home he gradually improved from his wounds and in the summer of 1864 re-enlisted in the First Minnesota Heavy Artillery, was commissioned its Colonel, served in and about Chattanooga until the close of the war, and was mustered out in July, 1866. At a date not known to me he was brevetted Brigadier General.

Col. Colvill was a huge, burly man. He was over six feet five inches tall, massive in every aspect, careless of dress, and, after the war, so pitifully crippled in body and foot that he walked with difficulty, leaning heavily on a cane, itself rugged as he. Judge Lochren writes that he didn't shine particularly on dress parade, but in action he was every inch a soldier. In his later years, no one could pass him for the first time, as I myself saw him -- with his long hair and full beard, his big slouch hat pulled down over his eyes -- without turning to watch him lumber along, If they did not know who he was, they at least would be sure that one of such heroic mold and bearing must have done something Homeric in his prime.

Col. Colvill was a serious student of Geology, and Indian lore, Indian mounds seeming to have a particular fascination for him. In Vol. II of Winchell & Upham's "The Geology of Minnesota," pp. 24, 25, 50, 52, 57-61, will be found references to Col. Colvill's writings on glacial drainage, the wells at Red Wing, and the remains of pre-historic races. He was an omnivorous general reader. A neighbor tells of loaning Col. Colvill two books one day and he returned them the next morning, having sat up all night reading them. There seemed to be no field of knowledge in which he was not interested.

Youth was beautiful to Col. Colvill. His interest in children seems to have been a continuing one throughout his life. I have been told that the youngsters of Red Wing, knowing how improvident he was in money matters, had only to ask in order to get whatever small change he had in his pockets. He would hold out his open hand with whatever change he had and say, "Help yourself." When he was told by some busybody at Red Wing that the children were robbing his melon patch, he replied that he was raising them for the children. As he rode around Red Wing or this countryside in his buggy, he always had one or more, generally more, children with him. The Hussey children of Grand Marais can bear witness to his kindness to children, wherever he was.

He was also a lover of dogs and generally had one or more following him wherever he went.

The Indians hereabout entered the house that stood here, without knocking, and sometimes smoked his pipes and tobacco, with no more show of resentment by the Colonel than may be inferred from the fact that, if he caught them doing it, he gave them the pipes.

He was, of course, devoted to the members of his regiment, and their welfare, always. I have heard and read many stories of his interest in them. Albert Woolson, now living in Duluth, told me that he and another private in the First Heavy Artillery were passing the headquarters of General Thomas in Chattanooga one day when Col. Colvill and Gen. Thomas were sitting on the porch of his headquarters drinking lemonade, and the Colonel called them in and set up the lemonade, explaining nonchalantly to Gen. Thomas that they were two of his boys.

The Colonel was reluctant to talk about his war exploits or to be lionized. The story is told about a lady who tried to get him to tell her about his famous charge. The Colonel parried her questions so adeptly and aggravatingly, for her, that she finally exploded with: "Well, Colonel, I guess you wasn't in it at all; you Just sat on a fence and watched it". When he was brevetted Brigadier General. he declined the honor, with the remark: "I want to be called Just Colonel Bill."

As many of you know, Mrs. Anna Hussey, of Grand Marais, who is sitting in the Colonel's old rocking chair at my right, knew the Colonel better than any one else during the later years of his life. She was a maid in his home, prior to the death of his wife, and she and her family lived with him, both here and at Red Wing, after her death. The Colonel gave Mr. Hussey this homestead. He had been his coachman at the time Mr. and Mrs. Hussey were married, and they both were dedicated to the Colonel and his interests and made his last years comfortable for him.

Mr. N. H. Bray, one of your present County Commissioners and a school-teacher in Cook County back in the Nineties, knew Col. Colvill well.

Let me close with two quotations. Judge Lochren, in his History of the First Minnesota says:
"He was the most modest of men, without a trace of arrogance, always kind and considerate toward every one, and ever watchful for the welfare and comfort of his men. He was the bravest, coolest, most imperturbable of commanders, whom nothing ever daunted or surprised."
A commentator makes this estimate of the Charge at Gettysburg:
"From Xenophon to Napoleon, from the Swiss Guard to the Charge of the Six Hundred, never men displayed such heroism; the fight was to the death, and their loss as a regiment the heaviest in the annals of warfare. It seems a pity that we lack a Tennyson to celebrate its heroism, for the Charge of the Six Hundred at Balaklava was mere bravado in comparison."