Chapter II: The McPhersons Acquire the Farm
For the next twenty-two years the farm and these buildings remained in the McPherson family, during which they acquired a history more national than William Breadon, Reverend David McConaughy, or Michael Clarkson could have lent them or even imagined themselves. The national significance of the McPherson farm buildings was obtained, not through association with nationally historic individuals, but through nationally.
12
significant events. Yet, even had the events not occurred, the farm would probably still be known as the McPherson Farm today among local residents, despite subsequent or previous owners, for the very fact that one of those McPhersons was nineteenth-century Gettysburg's most famous son. The father, John B. McPherson, was of local importance at the time he purchased Clarkson's "foreclosed" farm. He had served almost yearly on the borough council, was an original trustee of Pennsylvania College, and was long-time cashier of the Bank of Gettysburg (from its founding in 1814 until his death in 1858). He was a descendant of Robert McPherson, who settled in the Marsh Creek area in 1738-1739, and was thus a member of the so-called "First Families of Adams County". His forebearers had always been public-spirited citizens and leaders in their community. Grandfather Robert McPherson, Jr. was a captain during the Seven Years War and a colonel during the American Revolution. He had served as a delegate to the state constitutional convention in 1776 and was a trustee of Dickinson College.29 At his death in 1789, he left this same patriotic spirit and love of community alive in his son, John McPherson. John McPherson, the father of John B., was a lieutenant in the revolutionary army, and later served as state assemblyman. While in this latter service, John McPherson was instrumental in advocating, championing, and passing the bill which created Adams County out of
13
York County. He presented numerous petitions throughout the 1790s from residents of western York County, and corresponded extensively throughout the state to ensure that his constituents were heard. 30 John Bayard McPherson, like his father before him wished to see Adams County prosper and therefore entered into an early speculative venture of his own quite dissimilar to the land speculation of Clarkson, Ziegler, and Fuller. With James D. Paxton, T. C. Miller, and Thaddeus Stevens he bought stock in the early county ironworks--Caledonia Furnace and Maria Furnace. After two years he sold his shares, though, fearing a loss and turned to safer markets. These markets included turnpike stock and land. The Clarkson tract was his only venture into absentee farming, all his other property being lots in the borough or nearby. Like all owners but Breadon, McPherson preferred to lease the farm to a tenant farmer. At the time of his death in 1858 the farm was "occupied by C. Eckert as tenant". 31 All real estate, however, reverted to his son Edward McPherson, 32 as well as family heirlooms willed to Edward on the condition that he grant them to his own heir--an arm chair, a large family clock, and "the old desk in the banking room". Edward, then, came into instant prosperity at the age of twenty-eight.
His life had already been filled with various occupations and education by this time, but Edward would continue to dabble from one job
14
to the next all his life. Brought up a Presbyterian, Scotsman, and member of the "First Families of Adams County", Edward was undoubtedly made aware at an early age what was socially and morally expected of him. Receiving all his education at Gettysburg, was graduated valedictorian of his Pennsylvania College class in l848, and then set about the study of law.
He entered law practice in the Lancaster office of a former Gettysburg resident and the old ironworks partner of his father--Thaddeus Stevens. 33 During the short time he was there he became close to this dour Anti-Mason, and adopted many of Stevens' political beliefs as his own. The friendship that developed in Lancaster (almost a filial piety in its nature) was to be most influential in the future career of Edward McPherson. But, he little suspected the events which would befall his country, when he reluctantly left Stevens' legal practice due to ill health.
While recuperating he got a job in Harrisburg, as a reporter for the Philadelphia North American, covering the sessions of the state assembly. In 1851, he accepted the position of editor of the Harrisburg American, but returned to Lancaster that same year and edited the Independent Whig. After a brief stint at the Pittsburgh Daily Times, 34 he returned to Gettysburg in 1856 an ardent journalist. It is not known how his father reacted to all this confusion in his son's career. After all, Edward was the family's first trained lawyer, and John B. undoubtedly would have
15
preferred that his son either practice law or go to Congress and pass laws than be an itinerant newspaperman (a field not highly respected in that era). Whether his father exerted pressure on his son is not unlikely. In any event, Edward McPherson, for the first time entered local politics and abruptly terminated his newspaper career until 1877. He was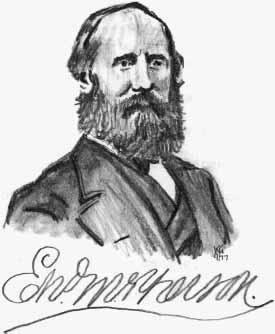 surprisingly elected to Congress in 1858, only two years after his return to the area. It is the more amazing in that the Congressional district included a larger area than Adams County, but included Franklin and at least three other counties.
McPherson was reelected in 1860, but lost when he ran again in 1862, attributing his loss to the addition of a hostile Bedford County to his Congressional district. His Republican friends in Congress, however, did not forget Edward McPherson, especially his mentor Thaddeus Stevens. Stevens, chairman of the House Ways and Means Committee since 1861, used his powerful influence to secure the appointment of his former law student-partner as chief clerk of the House of Representatives. This position was held by McPherson longer than any other man (1863-1877, 1881-1883, and 1889-1891). 35 However, his sense of obligation to Stevens made him a less than impartial clerk. This would be particularly evident after the Civil War ended and
16
the Radical Republicans (of whom Thaddeus Stevens was the leader) tried to force through their own version of a reconstruction program.
President Andrew Johnson, following Lincoln's "malice-toward-none" policy, inspired Stevens enmity when he allowed those former Confederate states who adopted the Thirteenth Amendment to elect representatives to Congress. Stevens, unfortunately for Johnson and the Southern states, had his course set toward vengeance on the Southern aristocracy and the former Confederacy (which he saw as a conquered province). He arranged with McPherson to omit the names of the newly elected Southerners from the roll, a move which was challenged by the Southerners but effectively rebuffed by McPherson and the "gloriously triumphant" Stevens. When Edward McPherson cooperated with Stevens' plan, he initiated the first act of the reconstruction decade, ending forever Johnson's hopes for extending a benevolent hand to the defeated South in favor of a "restoration" over Stevens' radical reconstruction. 36
During the height of the executive-congressional tussle, an article appeared in a Philadelphia newspaper assessing the character of this clerk. Gettysburg's Republican weekly newspaper reprinted the article so that the home-town folks could read about the national recognition redounding, to their "local boy made good":
17
Possessing refined scholarly tastes, but without talents which assume to be more than they are, and without an overweening or selfish ambition, Mr. McPherson has become more thoroughly identified than any other man of his age with the workings of recent American politics. . . .[P]erhaps no other man has become so thoroughly infused with the knowledge and spirit of its principles. Take him abroad, where alone the experiment is of importance, and Mr. McPherson would be today the truest exponent of our Republican politics. His executive cast of mind and character, and his official relation with the whole body of popular representatives, would make him perhaps more representative than any of them, of our political facts in contradiction to our political theories. . . . Outside of his official position he is an indefatigable worker, and has done the country most essential and important service. His "History of the Rebellion", finished almost with the close of the war, and compiled from the most authentic of official documents, will remain for the future the completest record of that most eventful period of our nation. . . .37 From the first session of the Thirty-seventh Congress, to which Mr. McPherson was returned the youngest member, until the present time, he has passed his time between his home at Gettysburg and the capital wholly in the public service.

His mind is perhaps more distinguished by clearness and power of execution than by originality of conception--more by its breadth than by its depth of comprehension. But his capacity for work and this faithfulness to the public interests will lead him to accomplish far more than many who assume to possess more original endowments. In person Mr. McPherson is slightly made, and a little above medium height. His temperament is the nervous sanguine. The clear precision of his features gives his face a cast almost classical. The large, steady blue eyes which light the expression, give you at once an impression of sincere character and scholarly thought. 38

18
While McPherson was building this political reputation, he had no time to devote himself to the operation of the Cumberland Township farm he inherited from his father. To let it lie fallow would not have been profitable, and so McPherson, like his father before him, arranged for a tenant to look after the farm during his absence at Washington. An unpropertied responsible family man would have been more than willing to rent this farm. Unlike the "granite farms" south of the Hagerstown Road, the McPherson Farm was free of those omnipresent boulders which prohibited full use of the acreage, and would promise the enterprising farmer a handsome profit for his toils.
---
Footnotes For Chapter Two
---
29 Frank R. Metzger. The Honorable Edward McPherson, Citizen of Gettysburg (unpublished-manuscript, Adams County Historical Society, May 1933), pp. 6-19 passim.
Return To Text

30 Papers of Edward McPherson, excerpts (Library of Congress microfilm, Adams County Historical Society), passim.
Return To Text

31 Last Will and Testament of John B. McPherson, Will #3446, Will Book F, Adams County Courthouse.
Return To Text

32 These tracts included the Cumberland Township farm, two lots on "Stoney Ridge" adjoining lands of Rev. Samuel S. Schmucker, two borough lots between Chambersburg Pike and the railroad, and two borough lots on the east side of Carlisle Street. Ibid.
Return To Text

33 Metzger, pp. 6-19 passim.
Return To Text

34 Dumas Malone, ed., Dictionary of American Biography, vol. XI (New York, 1946) pp. 159-160.
Return To Text

35 Ibid.
Return To Text

36 Ralph K. Andrist, The American Heritage History of the Confident Years (New York, 1973), p. 20.
Return To Text

37 Da Capo Press has seen fit to reprint McPherson's History of the Rebellion as a sales item within the past two years proving its durability as a worthy history of the Congressional proceedings during the Civil War.
Return To Text

38 "Edward McPherson, Clerk of the U.S. House of Representatives", Star and Sentinel, October 16, 1867, p. 1.
Return To Text
---
Chapter Three: The Slentzes as Tennants